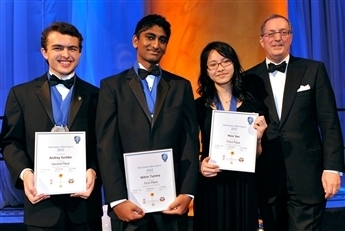 The top three finalists in this spring's Intel Science Talent Search credit things like parental support, perseverance, a spirit of inquiry, and science fair participation for their successes.
For his project, first-place winner Nithin Tumma analyzed the molecular mechanisms in cancer cells and found that by inhibiting certain proteins, it may be possible to slow the growth of cancer cells and decrease their malignancy.
A high school senior from Michigan, Nithin suggests that his participation in science fairs earlier in his academic career laid a foundation for his recent success. "I wasn't great at winning, but I had a good time doing it," he said. "My parents always supported me. So I kept on doing it. And it worked out." It worked out in a big way: Nithin received a cash prize of $100,000 as first-place winner of the Intel Science Talent Search.
According to second-place winner Andrey Sushko from Washington state, the habit of observing the world and asking questions laid a foundation for the kind of experimentation that led to his project: a tiny motor, only 7 mm in diameter, that uses the surface tension of water to turn its shaft. "This project started more or less with playing with model boats in the bathtub," Sushko said.
For her project, third-place winner Mimi Yen focused on microscopic worms, specifically looking at their sex habits and hermaphrodite tendencies. The senior from Brooklyn, NY says that her parents had a significant role in her success. "When I pursued this research project, the most important thing was for them to support me," she said. "And that's what they did very well." Mimi's research could lead to a better understanding of the genes that contribute to behavioral variations in human beings.
The most distinguished pre-college science competition in the country, the Intel Science Talent Search is a program of Society for Science & the Public. The competition recognizes 40 high school seniors who are poised to be the next leaders in innovation and help solve some of the world's greatest challenges. Intel funded $1.25 million in prizes for the competition's winners. "We invest in America's future when we recognize the innovative achievements of our nation's brightest young minds," said Intel CEO Paul Otellini.
See on news.investors.com