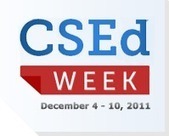 During Computer Science Education Week (December 4-10, 2011), here are several interesting facts about computer science (from CSEdWeek.org):
Five of the top ten fastest growing jobs will be in computing-related fields ( i.e., computer software engineer jobs expected to grow 45% over the next five to seven years).
Only 17% of AP computer science test-takers in 2008 were women, although women represented 55% of all AP test-takers.
By 2018, current government projections show that more than 800,000 high-end computing jobs will be created in the economy, making it one of the fastest growing occupational fields.