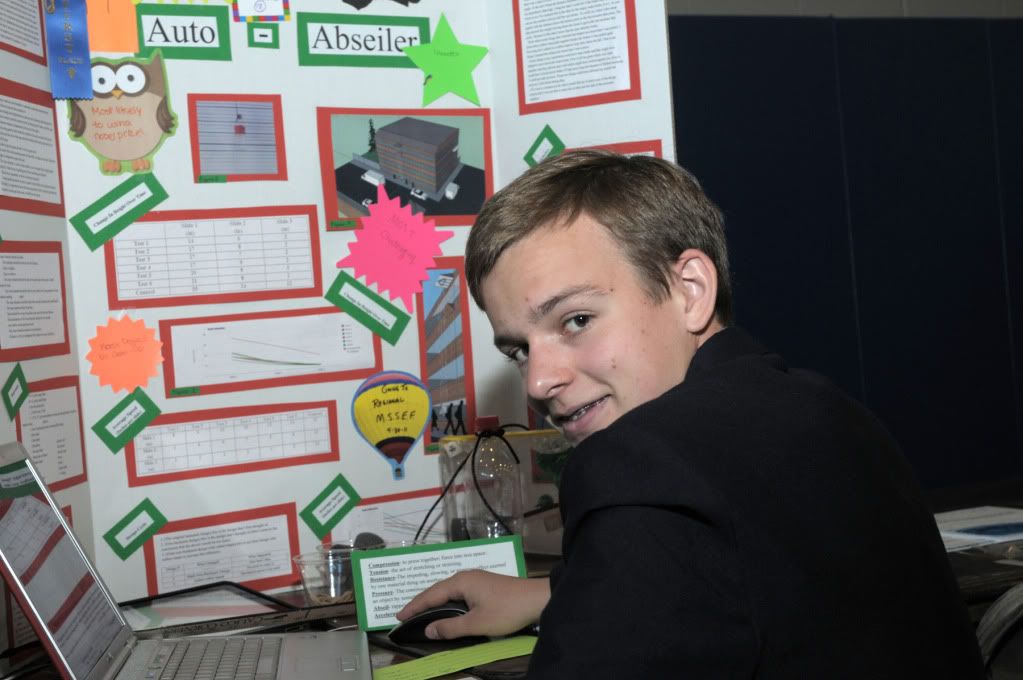 The 2012 Massachusetts State High School Science & Engineering Fair will take place Thursday, May 3 – Saturday, May 5 at MIT.  Students in grades 9-12 from all Massachusetts public, private and parochial schools — as well as home-schooled students — are eligible to enter through their schools.
The Massachusetts Middle School Science and Engineering Fair will be held Saturday, June 2, 2012 at Worcester Technical High School.
How the High School Fair Works
Each school may send two outstanding student projects directly to the Massachusetts State Science & Engineering Fair (MSSEF) State Fair: One individual and/or one team project (2 or 3 student members to each team).  In addition, the top winners from each school Science Fair can qualify for your Regional Fair, and top Regional winners may also enter the State Fair.  See the MSSEF website for Regional Fair information.
How to Apply
Students register online. Registration forms for Massachusetts high schools will be available on the MSSEF website starting on March 1, 2012 (on or after March 1) to log in and register.  Please contact the MSSEF office (617-491-1500) if your school does not have access to the Internet.
Deadline
Online registrations must be completed within five (5) days of your School Fair or Regional Fair (whichever is later), and no registration materials will be accepted after March 26, 2012.
Important!  Approvals Needed Before Research Begins
Many student research projects require approval from the Regional Scientific Review Committee (SRC) BEFORE experimentation can begin. These projects include research that involves human subjects, toxic substances, vertebrate animals, work in a non-school setting, etc.
Have Questions?
See a list of Regional SRC Directors
See the Science Fair Manual, forms and detailed instructions for the forms
Or email MSSEF
Important Dates
March 1, 2012: MSSEF online registration opens; forms available at www.scifair.com
March 26, 2012: Deadline for online MSSEF Registration is March 26, 2012 at midnight
May 3 – 5, 2012: Massachusetts State Science & Engineering Fair at MIT, Cambridge
Also: Please check with your Regional Fair SRC director regarding final dates to submit Forms and Research Plan for approval prior to experimentation.
Need Help?
The MSSEF website contains many useful hints and resources, including the High School Manual.  We encourage you to read the Manual as it contains important information for teachers and students.
You can also email questions to:
info@scifair.com (general questions)
registration.problems@scifair.com (online registration questions)
src@scifair.com (scientific review questions)